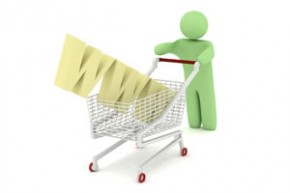 Here at Flow Interactive we have seen a rapid increase in enquiries for eCommerce websites whether that be to sell traditional physical products or 'virtual' downloadable products. Clients are seeing the potential for reaching huge audiences to sell their products to with relatively little overhead. It all seems so obvious and easy but there are some very real things to consider before going down the eCommerce website route.
Tip 1 - the USP
If you are considering setting up an eCommerce website ask yourself this question first:
"What is my unique selling point?"
What makes your product or service unique? What makes it different from anything else on the market?
Some examples could be:
I am able to offer product or service at a more competitive price
I have a product or service no-one else has right now
I am the sole distributor for this product or service
This immediately puts you in a competitive position right from the start, so long as there is demand for the product or service you should be able to get some traction and sales quite quickly with a modest marketing budget.
If the answer to the above question is "I don't know", you just thought you would setup a store to sell some product or service at the same price or the same range as all the other stores online you have to ask yourself whether this is a good move. How will people find and choose you over the other stores? Why would they choose you over the other stores? Do you have the budget to catch up with the more established stores and will your sales cover that investment?
Tip 2 - Take your budget and double it
Whatever you have budgeted to build the site, take that and double it.
Why?
In order to get started in eCommerce the challenge is how to make people aware of your new site and products / services. How do you do that?
Advertising
From our experience you need at least what you spent on the eCommerce store to spend on marketing the site at launch, to get some exposure, visits and hopefully sales. If you do not have money to spend on launch of the site no-one will know about it and you will not make any return on your investment.
There are exceptions to the rule
If you already have a client base, marketing database or strong online presence then you can leverage off this to get started. You may also have good connections within your specific industry which would allow you to promote through these channels. If this is the case then the budget your require for marketing could be a lot less, but your investment in time a lot more.
Tip 3 - don't cut corners
Whilst there are many relatively simple ways to get started in eCommerce the market has matured quite quickly in recent years. The expectation of users is high in terms of user experience and information on offer.
If your eCommerce website is badly designed and offers a pure user experience in terms of image quality, workflow, checkout and purchase then people will very quickly go somewhere else.
Some things to consider and spend time on are:
Information structure and heirarchy
Clean, intuitive design
Investing in good quality photography and providing large size previews
Investigating interactive elements such as product zoom, product customisation, product videos
Providing reassurance factors such as reviews, testimonials, security seals and social media integration
Search engine optimisation strategy and implementation
All of this takes time and money to get a result that will please and engage your visitors and convert them into customers.
Tip 4 - consider mobile
For 2013 the top trend is going to be mCommerce and user experience.
Dependent on your target market the number of visitors to your site on mobile devices (phones, tablets etc) will be increasingly rapidly over the next year or so. We are seeing figures at 25% or more on some sites right now.
The expectation that eCommerce sites are mobile optimised is common, people have less time available and are not willing to waste time negotiating a site with a poor mobile experience.
If your store is not mobile optimised then you are potentially putting off one in four potential customers.
As part of your plan for your new store consider your market and whether the additional investment in mobile optimisation is worth it. I would strongly suggest for a lot or markets it is. If mobile optimisation is built into the site at the beginning it will cost considerably less than trying to add it in later.
Tip 5 - plan ahead
Planning, designing and building your eCommerce store is just the beginning. In order to make your store a success you need to plan ahead.
Things you need to think about are:
Marketing plan for first 6 months
Social Media Plan & Content (Facebook, Pinterest etc)
Newsletter Content
Blog posts
Articles & PR
Advertising Campaigns (Google, Facebook etc)
Site review after first 2-3 months
Review Analytics
Review sales and drop-offs
Review Design and User Experience (Survey or direct customer contact)
Review product / service range
Implement findings
An eCommerce store should be an ever evolving and living thing, just building it and never looking at how it works (or in some cases does not) means you are potentially missing out on new customers and not achieving the best return on investment.
A consistent and pre-planned approach to marketing and advertising means you are delivering the best possible consistent content and message to your customers, prompting them to come back and spend more money.
In conclusion
Starting an eCommerce store the right way is a complex and time consuming task but will have the best potential to deliver real results for your business. As the eCommerce space becomes more crowded and competitive the bar to entry and success moves ever higher.
Not investing the time up-front and just throwing some products online, or not having the marketing budget or connections to promote your site will ultimately result in failure and no return on investment the vast majority of the time.
If you want help in starting your new eCommerce venture then we are here to help, give us a call on 1300 77 3569 or contact us for a no obligation chat with our eCommerce experts who can help you get on the right track.