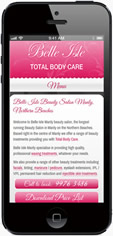 Here at Flow we always aim to keep up with the latest technology in order to help you grow your business online.
It is hard to ignore the mobile trend, analytics data from our client websites indicate a month on month increase in visitors from mobile devices such as smartphones and tablets.
So how best to serve those visitors to your site on mobile?
There are two main methods for delivering an optimised experience to your mobile visitors:
1. Separate mobile website
This involves a separate site from your main website which is optimised for mobile devices. This is a great option for delivering a highly optimised experience but can be a pain to maintain as you are having to make changes to multiple places every time. It can also be a challenge to serve appropriate designs to all the various devices out there and often will still have to use a "responsive" component to help with this.
2. Responsive websites
A responsive website is one that will adapt to fit the users screen. The website runs off one set of source code which has "rules" that define how things look and are positioned based on the screen size. The benefits of this approach is a single code base and single location to make changes. There are arguments against responsive design in that it is not truly optimised for mobile devices, often making mobile users (on slower connections) download the same amount of information as a desktop user. Whilst this is often the case if the site is designed and built well, content can be served incrementally to the relevant devices so that only those items that are necessary are provided to each device.
Our new mobile related services
Here at Flow we have been spending time researching and learning the best techniques to deliver effective mobile experiences for our clients. We have now completed a number of mobile websites, both mobile only and responsive sites.
We have now launched a new website which is dedicated to our mobile services, showcasing some recent projects and explaining the above concepts in more detail.
You can check out the new website at http://www.responsivemobilewebsites.com.au
Why your website should be going mobile right now
Want to know more about why your website should be going mobile? Check out our comprehensive blog post here.