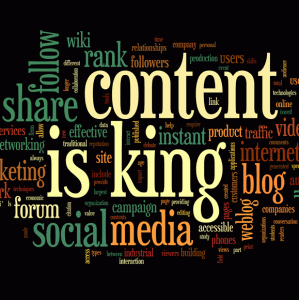 You may have heard these terms floating around the Internet recently on blogs, forums and news channels. They all sound very interesting and everybody keeps saying that we should do them but what exactly are they and how can they benefit your business right now?
To get things started what do these things mean?
Inbound marketing refers to marketing activities that bring visitors in, rather than marketers having to go out to get prospect's attention. Inbound marketing earns the attention of customers, makes the company easy to be found and draws customers to the website by producing interesting content.
Source: Wikipedia
Content marketing is the marketing and business process for creating and distributing relevant and valuable content to attract, acquire, and engage a clearly defined and understood target audience – with the objective of driving profitable customer action.
Source: Content Marketing Institute
Social Media is a group of Internet-based applications that build on the ideological and technological foundations of Web 2.0, and that allow the creation and exchange of user-generated content.
Source: Wikipedia
It's back to content is king
All of these subjects are essentially focusing on the same thing....content. Google has made it clear with their latest updates to the search algorithm that content, not just any content, but quality, unique, lengthy and valuable content is what the new algorithm is going to rank well.
Adding value
Note the highlighted word above, valuable.
The content you are creating needs to add value to the person that is reading it. By providing quality, well thought out content you are providing value to the Internet and this is what Google wants to encourage.
So how does Google know what quality content is?
As always what exactly Google does is somewhat of a mystery, but logic dictates that it can be using some perceived indicators for calculating value:
Length of content
If your article or blog post is 1000 words instead of 200 there is a chance it is more informative (not necessarily of course!). Research has shown that articles of similar quality over 2000 words seem to rank the best. Yes you did read that right 2000 words! Google is able to analyse the content of an article in terms of language, keyword density and other factors (possibly even other content on the page in terms of infographics etc). Not all articles need to be that length (this one isn't) but longer seems to be better in Google's eyes.
Number of links to your content
If your article or blog post has got lots of links coming into it then that is a potentially strong indication of the value of that content. After the Google updates over the last 12 months those links need to fit an expected "natural" pattern of use in terms of location, link text and context so no short cuts here of just building random links to your content!
Number of Social shares of your content
If your content has been widely shared across Social Media channels (think Facebook, Google+, Twitter etc) then again this is a clear indication that there is value in the content to people.
Tying it all together
So now we understand the why in terms of how content relates to inbound / content marketing and how it connects with Social Media, but how does one achieve this success in a timely and cost effective way?
This is the cornerstone of a successful inbound / content marketing strategy, having a well structured and cost effective way to generate great value, informative content on a regular basis. In order to achieve this goal you need to consider the following things:
What are you or your business experts in?
Within that expertise what are the things that would be of most value to your current and potential customers?
What are the questions and pain points that come up time and again with your customers?
What, in the daily operation of your business, could be used as value add content (think videos, photos, articles, how to guides)
What information does your business have access to that the general public does not (or would be hard to find)? Can you use this information to form the basis of new content (ensuring it is unique and value add!).
Who within your business may have individual expertise or interests that could add value to your customers?
Do you have access to outside resource that can generate content for you based on your input in a cost effective manner?
By looking at these questions to source ways of easily generating quality unique content you will find that the whole process suddenly becomes a whole lot easier and more cost effective. You are not having to spend lots of time researching and writing articles; you are simply using the skills, knowledge and experience within the business to write about what you know.
Putting it into a plan and making it happen
Now you have figured out where the content is coming from it's time to plan how you are going to implement it. First step is to make sure your Social Media channels are all set up so that you have the networks to push your new content out to. Make sure you have:
LinkedIn
Facebook
Twitter
Google+
And if you have photo or video content you should also consider:
Firstly plan out your content strategy for the next six months. Put together a list of article titles and other content that you plan to create and put together a timeline of when this content will go out. Put in some milestones for when the content should be started (and by who), review stages (if required) and when it is due to go out on your blog and other channels. This way you have everything planned out and do not need to scrabble around trying to figure out what to do each time. You can supplement this plan with content that gets generated "on the fly" like videos and photos that can be quickly and easily shared to the networks and your site.
Once you have produced your content you need to publish it first to your blog (unless you have a relationship with another blog or site you are going to publish to). Make sure it is set up properly in terms of visible structure and code structure (to keep the search engines happy - more on this in a future article) and that you have set up the SEO (search engine optimisation) for the article. Think about the title you are using for your article as this is the first thing most people will see. Is it interesting and attention grabbing? Is it clear and informative?
Ideally your blog should include social share and Like/Pin/+1 buttons to allow for easy social sharing. If your business can handle the overhead go ahead and enable comments too. Try to ensure your article has some images and if possible some infographic style content for those too lazy to read! The images will get picked up by the social networks when you share the content and be used as an eye catching thumbnail.
Getting it out there
Now your article is published to your site it's time to share it out onto the social networks. The way you do this on each network can be a strategy in itself but primarily you will be creating a new post within the social network with a summary and a link pointing back to the original article. This way you will be providing a unique summary targeted at each network and getting that link back to the site. As mentioned above most networks will go and look at your article and return a thumbnail image, title and extract to display along with your summary. Facebook (for example) allows you to flick through the images in your article and choose the thumbnail (most of the time!). Go through this process for each of the networks, paying attention to who the target audience is and adapting your summaries to suit. For example if you are posting on LinkedIn this may have a much more business orientated summary over Facebook. Once your article is out there you will hopefully start to see traffic coming into your article and the potential for links and shares.
To automate or not to automate
If you have a WordPress blog (for example) there are tools that can automate this entire process, quickly cross posting your content to social media for you at the click of a button. This seems very attractive as it can save you time but I would not recommend it. As mentioned above I feel it is vital to target each network with appropriate messaging to ensure you get maximum value from your time investment and often these automated tools literally just post the title to the network and nothing else. Social networks often rank content display based on engagement so it's important to try and maximise the perceived value to each audience both in terms of views but also potential for clicks back to your site.
Summing up
I hope this article has provided some insight and tips on how to start an effective inbound / content marketing strategy for your business. With effective planning and utilising the resources and knowledge you already have or have easy access to it can be a very cost effective way to generate more interest and awareness in your business and drive better rankings in search results. I feel it is vital to be engaging in some form of inbound/content marketing if search ranking and traffic to your site are important to you.
As part of our strategy for the new financial year we are developing a range of packaged services to help clients with content and content strategy, search engine optimisation, site tracking and analysis plus a range of other services to help your business make the most out of being online. More on that next month but if you are interested in any of these services or want to talk about anything else in this article please do not hesitate to give Ivan a call on 02 8097 7957 today.