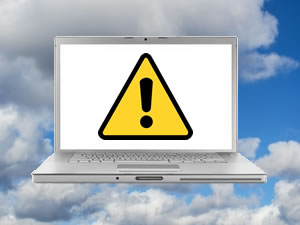 We are an electronic business. All of our information is stored electronically, from client work to emails, to accounts information. All electronic.
I am sure the vast majority of your business is electronic based. Accounts, emails, invoices, client records all stored on your computer or server.
So what happens when the unimaginable happens? What happens when the server dies, your hard drive fries itself or your website goes down?
You potentially loose it all.
What's the impact of that on your business? Potentially fatal.
Sure but you have backups right?
Sure you have backups, and you keep them offsite for security? How long is it going to take to get those backups, get a new server or hard drive, and restore all the records back? How likely is it that your backups have everything that you need?
What happens to your business while all this is happening?
Here comes the cloud
One way to mitigate this kind of disaster, and ensure you have some form of business continuity, is to have key services and data stored or operating in the 'cloud'.
A very simple example is to not have your email running through your website. If your website goes down, gets hacked or the hosting company has their own issues your email stops working and so does your business.
Using a hosted email services such as Google Apps or Office 365 means you are leveraging off the vast resources, infrastructure and support of these global companies meaning your email is far more likely to be up and stable than your website. For a small fee per year you get an amazing email service that can be accessed from anywhere at any time. No hardware to maintain no software to install, no worries.
The same can be said for your accounting system, your client relationship management system, your email marketing system and even your document storage. All of these services can be cost effectively migrated and managed using cloud based services that take the headache out of managing servers and computers and leave you to focus on your business.
All of these services have the added benefit of being accessible by anyone in your business from anywhere with an internet connection.
So if the unimaginable happens you can have all of your key data available immediately from any location.
Security, Reliability and Resistance to Change
Common arguments about cloud based services are issues around security, reliability and a general resistance to any data existing outside the company IT structure.
While these are all relevant and valid considerations, using reliable services, which are often backed by some of the largest companies on the internet, realistically means that the security and reliability of these services are backed by resources significantly larger than your business can achieve. As an example Google have shown that their Gmail service can achieve 10 times the reliability than a typical on-premises Microsoft® Exchange installation with over 99.9% uptime.
As with any business decision the appropriate research and evaluation should be conducted to ensure the services are right for your business and meet your requirements but given the potential benefits it can deliver surely it is worth a look?
Here to help
Flow Interactive help our clients understand technology and how it can help their business. We are not just a web design company but your technology partners with an aim to help your business grow using the tools that exist today and knowing about the tools that will exist tomorrow. If you want to find out more about how we can help your business grow contact us or give Ivan a call on 1300 77 3569.