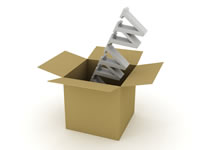 A Content Management System (CMS) allows you to easily add and update content on your website yourself without having to get your web design company to do it for you. Sounds great right, but how do you choose the right CMS for you?
CMS systems were once the domain of big corporate companies with lots of money but now there is a massive range of CMS systems available on the market, some free, some not and all offering different features and benefits. So how to choose one that is right for you?
Keep it simple stupid (KISS)
No we're not calling you stupid but using the common acronym KISS. Unless you are planning on becoming the next big thing you probably only need some basic functions like editing content, uploading images and adding new pages. In the future you may want to add on some more advanced features like a blog. Take some time to think about what features you need and then pick a system that is easy to start off with but offers plenty of possibilities to expand in the future. Have a look at the demo versions many of the main systems offer, login to the administration side and see how simple (or not!) they are to understand and use.
Go with the flow (no pun intended)
Sometimes it's cool to buck the trend and try out something new. In this case it is probably not the best policy. Going with a system that is well known and used will often mean it is more stable, secure and efficient at what it does over a new or unknown system that not many people are using.
These systems will also have a large user community and lots of examples to help you learn the system and get help when you need it.
Avoid Custom Content Management Systems
Many web design companies have created and offer their own CMS systems. Some of these systems are really very good, but there are massive drawbacks to using a custom CMS, especially if you no longer want to work with that company anymore.
Chances are that if your site is built on a custom CMS you will not find anyone else that has access to or can use that system outside of the current web design company. This potentially ties you to them forever, which is never a good thing.
If you choose a company that works with well known systems, there will be a large variety of suppliers who all know how to work with and develop your site using that platform, just in case you no longer wish to work with your current supplier.
One of the main benefits of a popular CMS is they are usually backed up by a very enthusiastic user base that will develop and provide many add-ons (plugins) offering extra functionality which can be easily added to the site (often for free!).
Seek Advice
I often come across clients that have done some research, found a system and dived straight in to start building a site. They then come to me because they get stuck or come across a limitation that means they cannot go any further. Often the CMS is badly written and overly complicated, sometimes I am not even sure where they found it and it often results in having to start again. So our advice is to do some research then look on forums and ask questions from other users as to how they rate the system. Here are some things to look for when considering a system:
How good is the documentation (and is there even any at all?)
What support options do the developers provide (free, paid, email, phone)
How good are the support forums and how active are they?
Do they have links to any showcase sites and how good are they?
When was the last time the system was updated?
OK so to summarise what do we think is the best CMS?
The best free Content Management Systems
Our top spot goes to the wonderful WordPress content management system. This humble system has evolved from a basic blogging platform to a fully featured and insanely well supported CMS that offers everything you need for a basic website up to advance sites and blogs.There are over 68 MILLION websites running WordPress world-wide making it the most popular and most used website in the world.It is super simple to use for the end user, taking on average only 30 minutes to learn how to use it.

It offers a great range of functionality "out of the box" and offers a dazzling array of add-ons (known as plugins) that can be added to extend the functionality of your site with ease.

It has an amazing range of documentation, tutorials and support forums that will help you learn at any level.

A word of caution: Whilst you can often easily install and setup your own site using your web hosting control panel we would STRONGLY recommend you engage an experienced developer to help you setup your site correctly to ensure it is secure and optimised. A little knowledge can be a dangerous thing and we get many clients coming to us for help after their site has been hacked. Being the most popular system in the world also makes it one of the top targets for hackers.

Our second recommendation would be Joomla or Drupal. Whilst we have worked with theses systems to implement some more complex sites it is not something we do often, primarily due to the confusing user interface for clients. The systems are hard to learn and often quite confusing to use. They offer a lot of power and versatility (especially Drupal) but can be bloated and over complicated for most websites. Joomla is also the most hacked CMS world-wide due to it being difficult to secure correctly for those without the relevant experience.
The best paid Content Management Systems
There are so many paid CMS systems out there it is impossible to cover them all or even to evaluate them all. The price point to access these systems is more often than not outside the budget of small to medium sized business. Saying that we work with an AMAZING paid CMS that is truly remarkable in terms of what it offers for a very low monthly cost.
Introducing Business Catalyst (or what we call SideClick)
Business Catalyst is a hosted CMS owned and operated by Adobe (the largest software manufacturer in the world).
It's like having 10 systems in one offering you full content management, email marketing, blogs, forums, ecommerce, web forms and web applications. All of this is centered around a core customer database offering full Customer Relationship Management (CRM) allowing you to log and track all interactions with your customers.
It has the power to grow with your business, allowing you to start out with a super simple content management system and then allowing you to easily add on more advanced functionality as and when you need it.
Your website is hosted and managed in Enterprise class hosting centres based in Australia that would cost thousands to setup and run, offering you peace of mind and security for your site.
We are increasingly using this system to build sites for clients that want to have an online business rather than just a website. Check out our dedicated site for more information.
What Now?
We hope this article has given you some food for thought and helped you understand content management systems and what to look out for.
If you are feeling adventurous maybe you can install one and have a play yourself to see how you get on.
If you are looking to use a content management system for your business website we would strongly recommend you engage a competent and experienced web design/development company to help you out, your business could depend on it.
Want to know more? Then give us a call for a free no obligation chat to dicsuss your requirements. Call Ivan on 1300 77 3569.