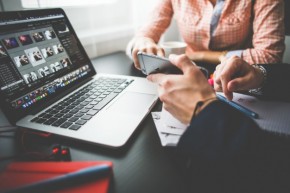 With 2015 well underway, many of you may be thinking about a new website for your business or at least a comprehensive redesign of your current website. The problem is that lots of business owners are merrily plodding along with an out-of-date website that is costing them both clients and money – and they don't even know.
So how do you know when it is time to ditch the old website and design a brand new shiny one? Well here are 7 reasons why it might be time to do the deed:
1. Your site is not responsive
In this day and age, a responsive design simply makes good sense. Just about everyone searches the internet using some type of mobile device, whether it is their smartphone, iPad or tablet. So making your website mobile friendly is vital to your bottom line.
2. Your site is more than 5 years old
If this is the case, then don't bother to read anymore – you definitely need a new website. Technology has changed so much and your customers' expectations have risen enormously compared to 5 years ago, so an old website that is not user-friendly and clearly looks out-dated, will only turn clients away.
3. Your website is too slow
If your website takes longer than 2 seconds to fully load then you will be turning customers away in droves. People have huge expectations when it comes to site speed and if they have to wait around for your site to load, there are plenty more websites out there they can click on. If you are not convinced – then did you know that Google considers site speed as a factor in their ranking algorithms? Be fast and start to rank.
4. Your website is not optimised
If your content is not optimised for search engines, then you are leaving money on the table right there. If it is not optimised for customers, then you will be losing conversions. Make sure your content is all about the benefits to your customers, not all about your company and what you do. Think benefits, not features.
5. Your website has flash players and opening music
Really? That is so old! It is well past the time that you updated your website. Customers don't like being distracted by loud music playing when they enter a website anymore and those Flash players don't display on mobile devices anyway.
6. Your website is too complicated to update
If this is the case, then who is updating your website? You need instant access to the backend of your website so you can update the contents as often as necessary. So if you don't have a content management system (CMS) that is easy to use, you need to organise a new website.
7. Your website looks old
If even you think that your website looks old and outdated, then what will your customers think? Do you even like your website? How does it compare to your competitor's? If the competition's website is as bad as yours, you will knock them out of the park when you have a new trendy design; if theirs is better than yours, then it's time folks – it is time.
There are lots more reasons why your website needs to be redesigned, these are just a few of the more common reasons. So if you want to chat about redesigning your website, contact us on 02 8097 7957, email us at info@flowinteractive.com.au or complete our online enquiry form.